Second Annual Alumni Reunion
On Saturday, April 13th, our department hosted its second annual Alumni Reunion to benefit our Write- in-Residence program. This year the event took place at the Golleher Alumni House on campus, which lent a warm and welcoming atmosphere with its Spanish Colonial Revival style home and surrounding garden. Alumni enjoyed delicious appetizers, wine, and desserts while mingling with one another and catching up with faculty.
Some of the highlights from the event included poetry readings by Lincoln McElwee and Skyler Schulze, both of whom are graduate students in our M.A. program and have worked with our Writer-in-Residence, David Hernandez. Lincoln, who read "Bonfires" and "Goodness," credits Irena Praitis for his renewed passion for poetry, noting that his experience in her contemporary poetry class "changed [his] life." Skyler read "What Remains of You" and "You Can't Hide the Products," which are featured in her master's project. Skyler fell in love with poetry in elementary school when she "realized that [she] could create stories in creative ways" to help her "through the various difficult times that come with growing up." She hopes to continue working on poetry while also finding post-graduate work in book designing.David
Hernandez followed by reading his own "Parking FAQs," "Dear Professor," and "All-American," the last of which was inspired by his love of epistolary poems and thinking of the audience. For "All-American," rather than following the addressee ("Dear..."), David wanted to "play around with the 'Sincerely' " and consider the voices of those (in this case, Americans) addressing him. Everyone enjoyed his sincere reflections on life, and laughter filled the room when his touches of humor shined through his readings. After the poetry session, David helped Lana Dalley draw names for book prizes, which brought the night to a close on a happy note.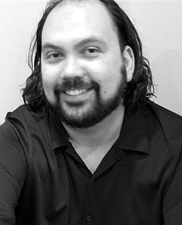 David Hernandez is the recipient of a 2011 NEA Literature Fellowship in Poetry. His recent collection,Hoodwinked, won the Kathryn A. Morton Prize and is now available from Sarabande Books. His other collections include Always Danger (SIU Press, 2006), winner of the Crab Orchard Series in Poetry, and A House Waiting for Music (Tupelo Press, 2003). His poems have appeared in FIELD, Ploughshares, The Threepenny Review, The Missouri Review, TriQuarterly, The Southern Review, and Poetry Daily. He is also the author of two YA novels, No More Us for You andSuckerpunch, both published by HarperCollins.