Alumni Career Panel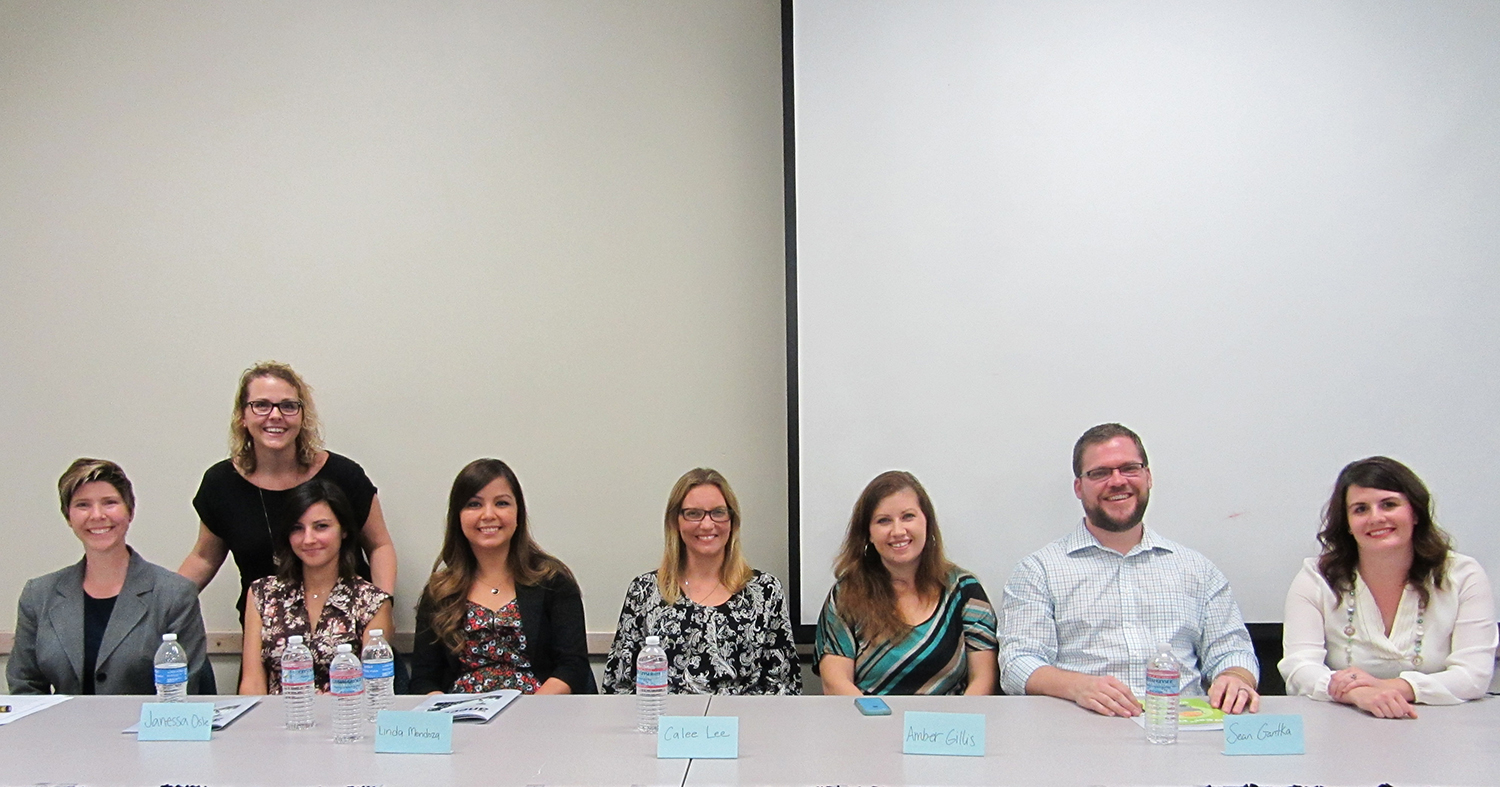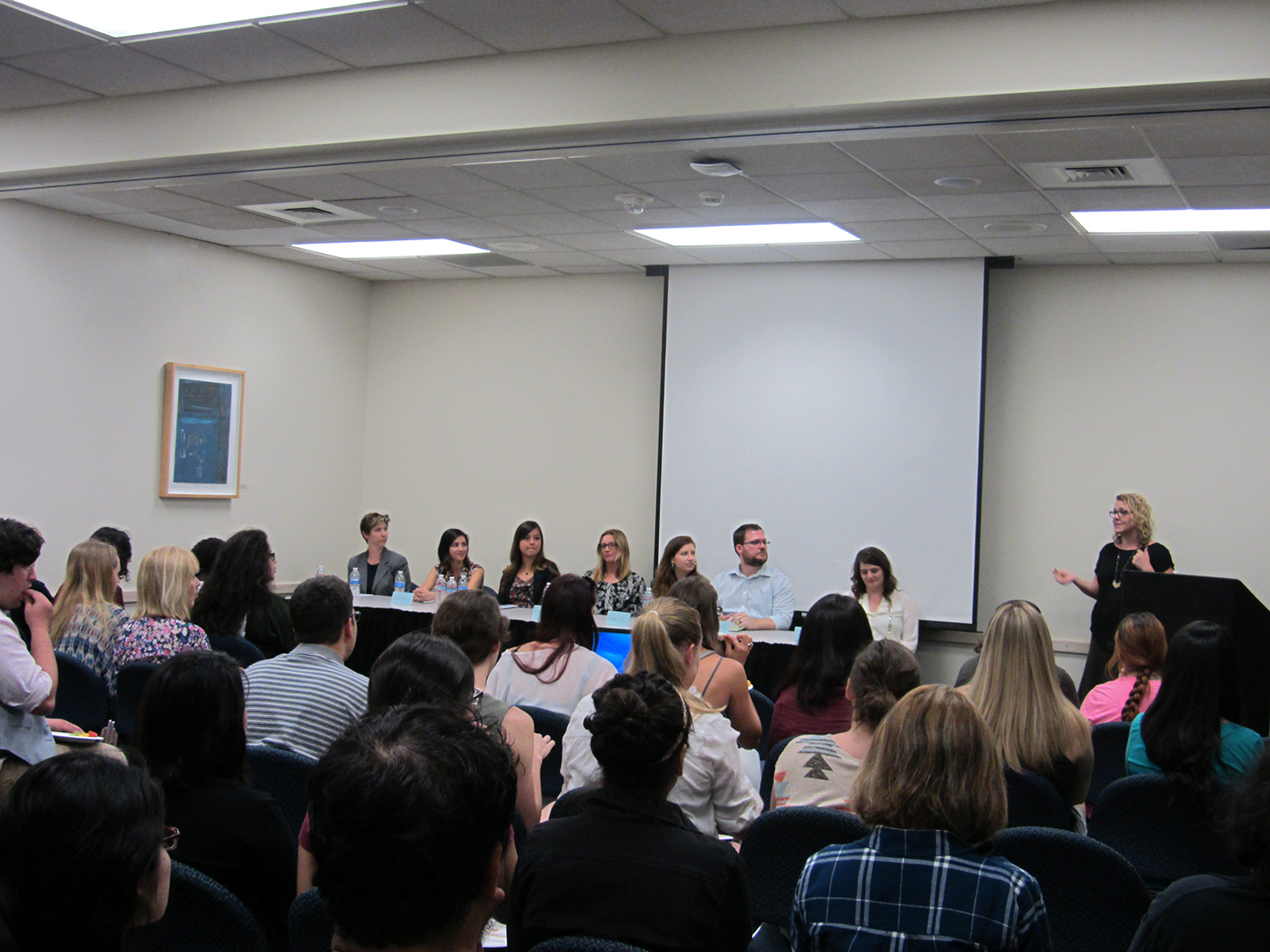 On Thursday, April 30th, the Department of English, Comparative Literature, and Linguistics hosted an alumni career panel. More than 50 students were in attendance. Students enjoyed fruit and sandwiches as they listened to English alumni share their experiences at CSUF and in their various fields. The following alumni were on the panel:
Linda Mendoza (BA '07): Graduating with a Master's degree in Educational Counseling from the University of Southern California
Nicole Bailey (BA '10, MA '13): Education Department at PBS SoCal
Calee Streza Lee (MA '11): founder and chief executive officer of Xist Publishing
Amber Gillis Singham (BA '07, MA '09): Full-time instructor at El Camino Compton Center
Michelle Schmer (BA '08): Technical writer and project manager at Glidewell Laboratories
Sean Gantka (BA '05, MA '08): Production manager at Nickelodeon Animation
Janessa Osle (BA '09): Developmental editor
Detailed biographies of the panelists can be found here


. During the panel, the alumni gave students valuable advice, some of which is shared below.
What skills did you learn as an English major that can be translated to your job? 
Analyzing and observing
Solving problems
Looking at issues from different angles
Persuasion
Active listening skills – analyzing while listening
Communication skills, both written and oral
Expert reading skills – taking in information, bringing it in, and producing something with it
Scanning information and pulling out what's important
A keen eye for details
What would you advise English majors to do before they graduate?
Get out of your comfort zone sooner!
Meet people from other fields.
Save copies of all your work.
Study abroad!
Join more clubs.
Never stop networking.
Make a list of all the books you read and build a habit of reading.
Take advantage of campus resources. Utilize your professors.
Keep in touch with people.
Connect with other students, both in and out of your fields.
To read what some of our students thought of the panel, please see below.

Student feedback
"I found the panel extremely helpful! It really inspired me to think outside of the box as far as career choices go."

"I had to miss one of my classes to go to the event, however, I felt that it was important." 
"Informative, helpful, and fun! Perfect blend of lightheartedness and thoughtful reflections that have helped me shape my post-graduate plans. Thank you!!"
"This restored my faith in post-grad options for English majors. Even though I'm graduating next week, I would love to see this panel become an annual event. The advice and positivity boosted my tired, slumping morale; it was a panel all of us needed to attend."

"Conversing with other soon to be graduates, we all seemed unsure and a little afraid of what awaited us out in the real world. After attending the workshop, we were so relieved and walked out with valuable information that will definitely help us with our future career goals."

"Amazing gathering! I truly enjoyed this event." 
"This was so great! The Alum were helpful, informative, easygoing, and funny! I feel really lucky to have been a part of this. Thank you!"